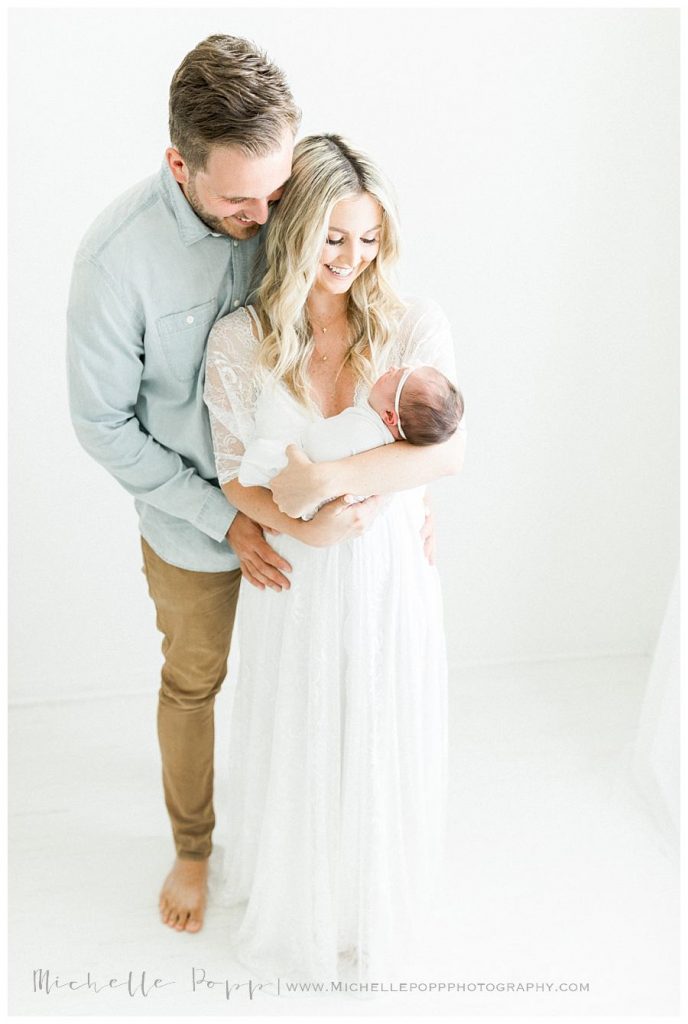 Intimate Newborn Photography in San Elijo Hills
I am obsessed with intimate newborn photography. Give me all the baby snuggles, little dimples and rolls, and tiny toes! I never want you to forget this moment. The emotions of how it felt to become parents are huge, as is the immense love you have for this tiny miracle. This little life you've created together is finally in your arms! And the joy that it brings to be a mom and dad is just unparalleled! This sweet couple welcomed their first baby (a girl, named Cindy). And as you can tell, they are just smitten!
Natural And Candid Imagery at An In-Home Studio
This beautiful, emotion-filled session was held in my home studio. Mom couldn't stop smiling, and dad was over the moon in love with his little one. These images are exactly why I love doing this job! Honestly, turning your priceless moments into tangible memories is what I live for. I love to bottle up those in-the-moment feelings you have as a family! I am so glad to offer a studio space at my home for my clients to have their portraits done.
Studio sessions are an intimate experience where everything you need is taken care of for you. Such as, wardrobe styling, perfect lighting, and posing. No need to stress about cleaning your own home and being anxious about making your house clean! My in-home studio creates the perfect, sun-bathed atmosphere to capture those picture perfect moments without distractions. Because you deserve the best, we provide the absolute best in luxury portrait experiences.
Excitement About Baby's First Photos
Your sweet little bundle just made their debut! I cannot wait to snap those first candid, raw, gorgeous images of your new family. Newborn portrait sessions are a great way to take some much needed time to bond with each other, and your new infant. We allow plenty of time for mamas to nurse, dad to hold baby, and to do diaper changes. I want to make sure baby is completely comfortable to capture those perfect first photos because that is how we will get the best shots.
During your session, baby will be in a warm and safe environment. I provide white noise, fresh swaddles, and soft blankets in timeless neutrals for baby. Additionally, for parents, I offer wardrobe and HMU for mom, and styling inspiration for dad. All you need to bring with you is yourself, and that sweet little one! We will take care of the rest 🙂 I have the best collection of curated and timeless wardrobe essentials, too. So you won't have to worry about dressing yourself or the babe!
To book your newborn lifestyle or portrait session, please send me a message! I cannot wait to meet your newest addition. If you are an expectant mama, consider joining our Collective Membership Program. And this program will provide you with portraits of your bump through baby's first year.
Clothing borrowed from client wardrobe collection.
Hair & Make-up: Blush & Adore
Film Scans: Photo Vision