Choosing between Outdoor or Studio for Maternity Photos
If you are an expectant mama, you are probably spending some time deciding between outdoor or studio for maternity photos! I am so excited to work with you to create the maternity session of your dreams. There are several factors to consider for your indoor or outdoor photos. At our consultation, I will take into consideration the style, vibe, and wardrobe choice you want your session. After that, we will determine whether outdoor or studio for maternity photos is best. Typically maternity portraits are done during your third trimester, about 1-3 months before your due date. When we plan for your maternity photos, we will talk about your vision and hopes for the session. I will create your perfect luxury portrait experience catered exactly to you and your growing family.
Outdoor Maternity Photography Session
With outdoor maternity photos, you will get an abundance of soft, natural light and breathtaking scenery. I will guide you through various natural and organic poses to get the best candid photos. I offer outdoor sessions at either morning, or during golden hour when the light is soft. Working with morning light will give us more of a moody, ethereal, dewy vibe. I love shooting in the late afternoon! If we shoot later in the day you will be bathed in soft and warm light as the sun sets. Whatever you decide, I guarantee you will have an amazing portrait experience.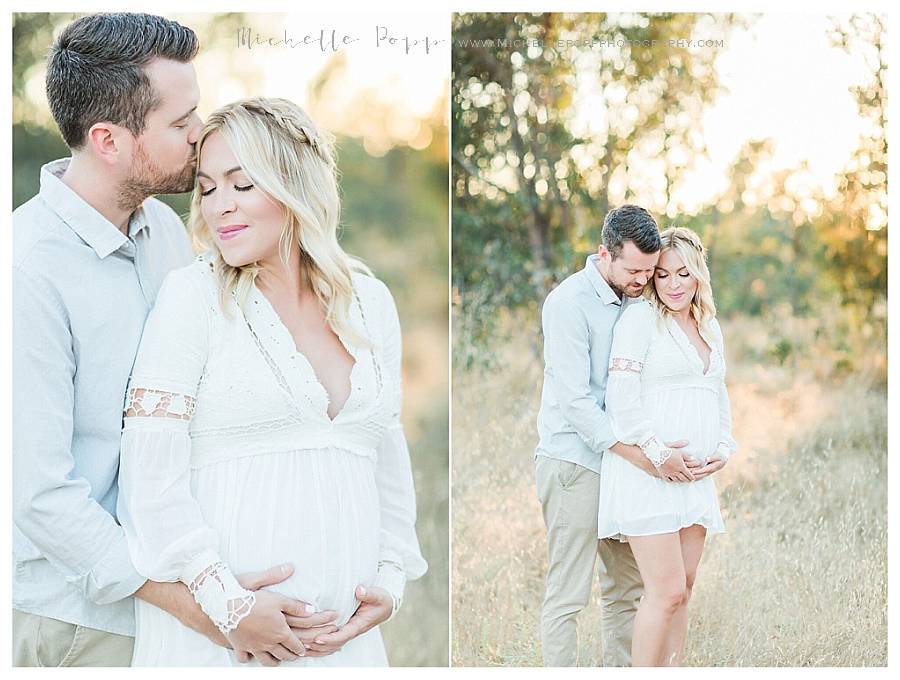 Locations for Outdoor Maternity Photos in San Diego
I have scouted locations that are perfect for the best San Diego maternity portraits, and we will head to one of these on the day of our session. I will choose a location that is everything you imagined for your outdoor maternity portrait session once we decide on the vibe you're wanting for you outdoor maternity photos. If you'd love to book an outdoor maternity session with me at a preferred location in north county San Diego, please contact me to get started.
Maternity Portrait Session In Studio
At my in-home studio in San Elijo, you will receive the most luxurious portrait experience. I have everything you'd need to be pampered and comfortable for your in-studio maternity portraits! Studio photography gives more of a high-end and lavish feel to your imagery than outdoor photos do because of the controlled atmosphere. I will make sure you feel relaxed knowing all your needs will be taken care of during our shoot. I have the studio set to a comfortable temperature, and personal amenities are readily available for you.
If you're not sure if choosing an outdoor location will give you the imagery you are looking for, then an indoor session will be perfect. My in-home studio is equipped with everything for a light and airy indoor portrait session. Contact me for more information on what the studio looks like and how to book your indoor maternity session.
What Every Session Includes
I love to keep it simple and classic with neutrals, soft patterns, and colors that flow well together. You can choose from a variety of elegant gowns, ethereal dresses, stunning skirts, and heirloom pieces for little ones. I will be your personal stylist, which will take the stress and hassle away from coordinating your outfits. This way, you can focus on spending the weeks leading up to your session stress-free!
All sessions come with styling appointment to try on and find the perfect dress. I have a variety of carefully curated timeless pieces that will flatter your baby bump. During your consultation, we will select outfits to narrow down for your shoot. I will give you options for colors, textures, and patterns that go well with the vision you have for the session. I hope that you are getting so excited for this experience – maternity portraits are a wonderful way to capture the glow of motherhood.